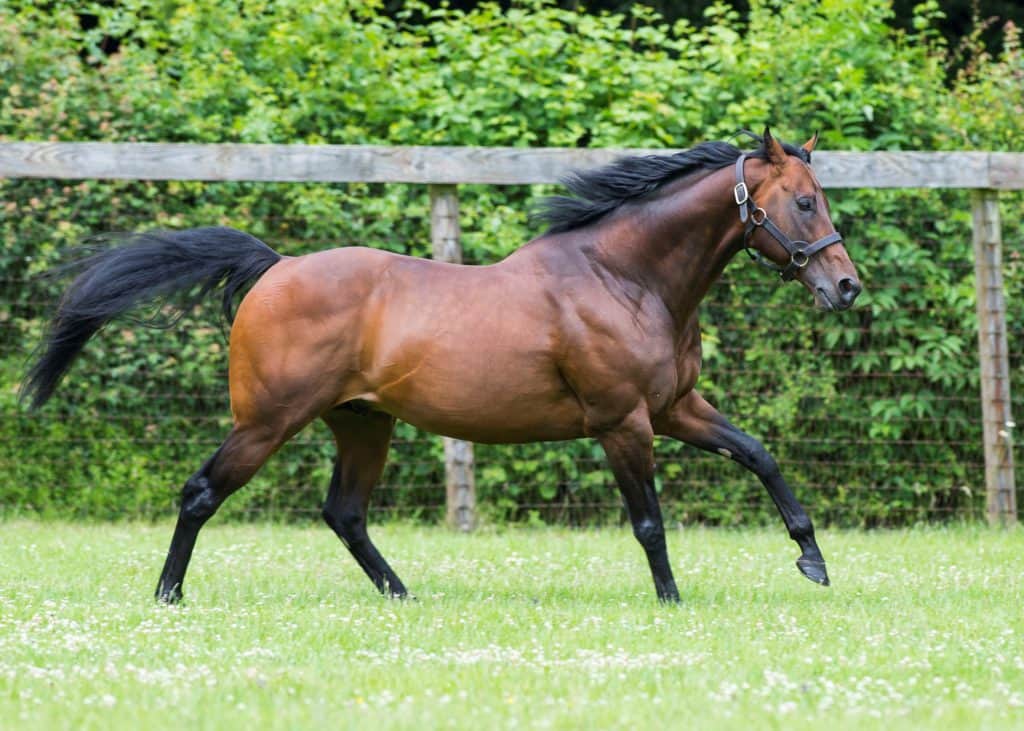 Kingman © Bronwen Healy
Europe
Superb Goffs Foal Sale for Kingman
The top three foals of yesterday's sale, including both of the lots knocked down for more than €500,000, were by Kingman. He grossed €1,540,000 and averaged €513,333 for his trio offered during the session.
Taken from the Thoroughbred Daily News, 17th November 2022, by Brian Sheerin:
Philipp Stauffenberg broke new ground at the November Foal Sale at Goffs on Wednesday by signing for a Kingman half-brother to Skitter Scatter for a sales-topping €550,000 on a day where the Juddmonte-based stallion shined brightest.
The Airlie Stud-consigned colt is not just a half-brother to that 2018 champion two-year-old filly in Ireland but also the promising Charlie Appleby-trained Victory Dance and the €550,000 it took to buy him represented a new record for Stauffenberg. The fact that lot 727 boasted a stallion's pedigree provided Stauffenberg with the confidence to push on and buy the colt who brought the leading pinhooker's total spend at Goffs this year to over €1 million.
Stauffenberg said: "As the auctioneer said, he has a stallion's pedigree and I was actually the underbidder on the Dubawi [Victory Dance (Ire)] as well. I think there is a lot of upside and, from what I hear, the Dubawi is going extremely well. They pushed him a little and thought he was a little bit earlier than he was."
He added: "If he wins something nice next year, which you would hope he can, it will improve the page again. He definitely has a stallion's pedigree. It's a very good family and if Kingman comes up with a nice horse I'm not too worried."
He continued: "Like all the others, he will come back to the farm. I will have to tell my staff that we have quite a valuable thing there. We treat everything the same and he will be raised like all the others then we will make a decision about where we are going, but I think it's an obvious decision about where we will go next year with him."
Not only did Kingman supply the top lot and the Roundhill Stud-drafted colt who was knocked down to Juddmonte for €530,000 but he completed the clean sweep when The Castlebridge Consignment's filly (lot 688) by the stallion was snapped up by Japanese buyers for €460,000. Shingo Hashimoto, who has made the trip to Goffs in the past, signed for that Kingman filly on behalf of Katsumi Yoshida.
He said: "She has been bought to race in Japan. Kingman has done well in Japan and has a runner [Schnell Meister] in a Group 1 there this weekend. She looked good and the pedigree is very strong. She is lovely. She has been bought for Katsumi Yoshida."