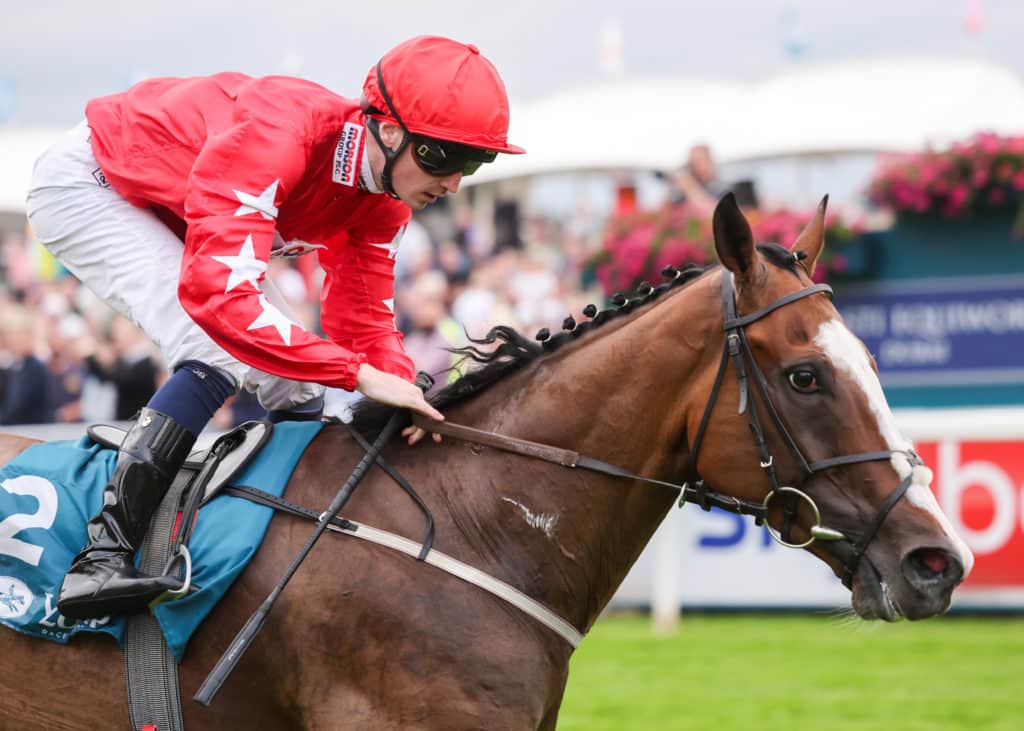 Spirit Dancer © Grossick Racing Photography/Racing Post Photos
Europe
'My best day in racing'
Sir Alex Ferguson wins $1 million with Spirit Dancer (Frankel) winning the Gr.2 Bahrain International Trophy.
Taken from the Thoroughbred Daily News, 18th November 2023, by Brian Sheerin:
The Sir Alex Ferguson-owned Spirit Dancer (Frankel) winning the $1-million Gr.2 Bahrain International Trophy would have ranked pretty highly as a dream result for everyone associated with this relatively new race.
To have one of the most recognisable sporting figures in the world in attendance all week was something, but for Spirit Dancer to play with his rivals in a similar fashion to some of the best teams Ferguson assembled at the helm of Manchester United exceeded all expectations. The reaction the 81-year-old met Spirit Dancer taking care of a Group 1 field in all but name was one of genuine delight with the Scotsman labelling the victory as his greatest ever in racing.
"That's the best ever in racing, without question," Ferguson said moments after Spirit Dancer crossed the line over two lengths clear of the John and Thady Gosden-trained Israr in second with Point Lonsdale a close-up third.
He continued, "When you looked at the field I was worried. I'm seeing Godolphin with five, [Aidan] O'Brien's got a runner, [Andre] Fabre's got a horse there. And we're just a wee stable from Yorkshire. He won well, too, very well. It was Ged [Mason] who jumped on me - 100 yards away he looked as though he was going to win but I'm not counting my chickens at that point, I'm just praying. He carried me over the line with him."
Ferguson has enjoyed his fair share of success in racing. Few will forget his association with Coolmore in the late nineties and early noughties, highlighted by Rock Of Gibraltar, but more recently he has been concentrating on the jumps and enjoyed a host of success with trainer Paul Nicholls and Dan Skelton, with Clan Des Obeaux, What A Friend and Protektorat, respectively. But Spirit Dancer represents the latest chapter in Ferguson's racing endeavors as the Richard Fahey-trained six-year-old is one of the first horses to have graduated from the owner's stud farm in Hemel Hempstead.
Ferguson explained: "He was my first foal. It was a new adventure for me to get into breeding to be honest. I bought a mare from Germany. She's at Hemel Hempstead and is from a good family. The first foal was a Frankel, and that's why we're down here today. We've had other horses that have done well but the Frankel has been fantastic. I told Oisin [Orr, jockey] going out there to remember he's [Spirit Dancer] a Frankel."
It may have been lost in the occasion somewhat the brilliant job that Fahey has done with Spirit Dancer. He delivered the horse in peak condition for the day that mattered and took great satisfaction in the result, even if the trainer admitted to being slightly surprised at the ease in which it was achieved.
Fahey said: "It was an easy race to watch because we always felt we were going to win. Once he hit the front he wouldn't be stopping and it would take a good one to beat us. The fancied ones were in front of us, we passed them and they don't often come back. I'm absolutely over the moon. It's a special moment for everyone. We did see the trophy the other night, it looked like the FA Cup, Sir Alex is used to picking up the FA Cup. It was a fantastic result."
On future plans, he added of his Gr.2 Neom Turf Cup qualifier: "We were mentioning going to Saudi in February, we'd see how he ran today. Have horse, will travel, so we'll see how he comes home. I genuinely thought it was a tough race and he needed to step up but it was a comfortable race to watch. It's a huge moment for me. We've had Royal Ascot winners and things like that but with Sir Alex there it's been a great week with the build up. He put no pressure on me, the horse, or anybody. It was 'lets enjoy this'. He's an absolute gentleman. Some great stories and a great man."