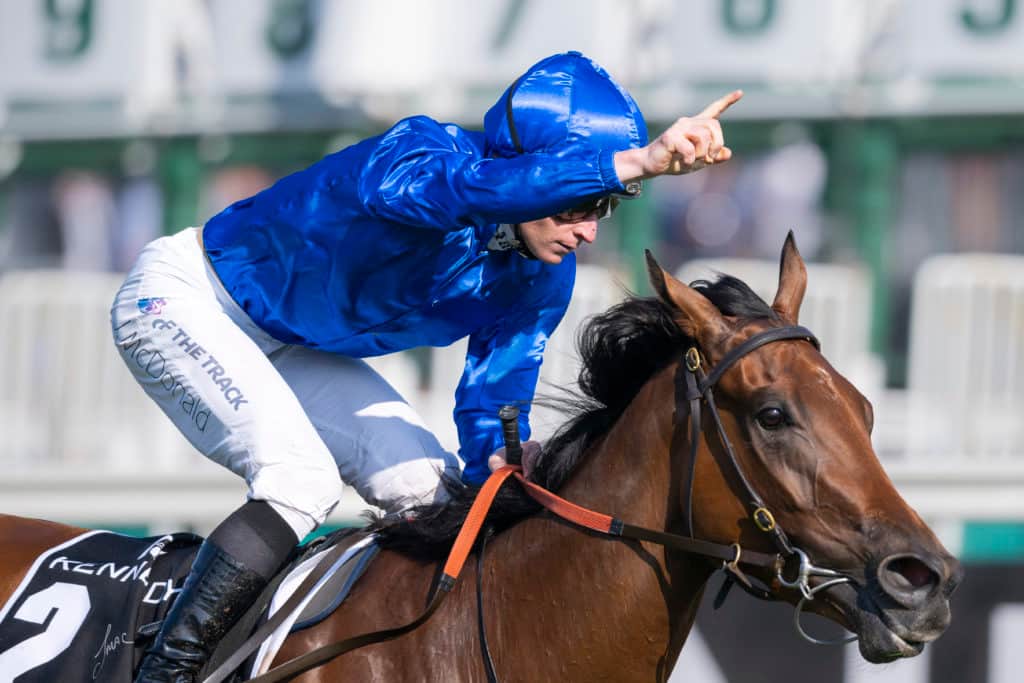 Zardozi © Bronwen Healy Photography.
Australia
Kingman's Zardozi wins the Gr.1 VRC Oaks
Australian bred Kingman filly Zardozi stormed to victory in the Gr.1 VRC Oaks at Flemington today, for her second Group success.
Taken from Racenet.com.au, 9th November 2023, by Glen McFarlane:
The Cummings stranglehold on the VRC Oaks remains as strong as ever after the classy Zardozi toyed with her opposition "like a weapon" to stretch the family's connection in the Group 1 fillies classic (2500m) to 13 victories, including the past three.
Godolphin trainer James Cummings now has two VRC Oaks to his name, with Zardozi emulating Willowy from 2021, while his father Anthony won the race last year with She's Extreme. The Cummings' race-winning links stretch back four generations with James' great grandfather Jim having success in 1928 before his legendary grandfather Bart almost made the Oaks his own with a record nine wins.
"All these Group Ones are special and a time-honoured VRC Oaks, it's going to get a shot in the pool room," Cummings said after the well-bred daughter of Kingman saluted.
"It's just a real privilege to be on the big stage with beautifully bred horses like this, she's a real reflection of his honour Sheikh Mohammed's vision to have an international pedigree here in a VRC Oaks.
"And for only a slender filly, she packed a punch at the end of a mile and a half, as we had full confidence in her to do."
Zardozi started A$2.75 favourite off a luckless second in Saturday's Wakeful Stakes (2000m), proving too strong for second-placed Aethelflaed as she won by by two-and-a-quarter lengths. Damien Oliver's quest for an eighth VRC Oaks looked a chance halfway down the straight, but Basilinna had to settle for third place, beaten six-and-a-half lengths.
McDonald is one of the most successful riders in Australia, but he has long coveted his maiden Oaks and couldn't be more pleased to complete the Derby-Oaks double in the same year. He won the Derby on Riff Rocket.
"Oaks and Derbies are very precious," McDonald said. "I'd never won a VRC Oaks (before this) and it's a test of training ability, horse power and obviously you've got to execute pretty well because they're still immature. My trainer (James Cummings) is a freak. He just set this horse for this race and it's paid off. She's a star filly. It was executed beautifully – bang, crash, whatever you want."
Cummings paid huge credit to McDonald for his ability to bring out the best in his filly.
"He's absolutely nailed it. To win the Derby and the Oaks in the same Cup carnival is a great credit to James. He showed great nous early, got himself in a perfect position, settled down eighth in his own space. I love that and she let go like a weapon."
While his last Oaks winner Willowy did not race again after her 2021 success, Cummings was confident Zardozi's pedigree and power indicated she had plenty more to give in 2024.
"We had great faith … she was just begging for me to step her up in distance. We hope (she can train on) … we can enjoy the win and a VRC Oaks goes into her pedigree page. It's absolute gold for her. She is incredibly valuable."