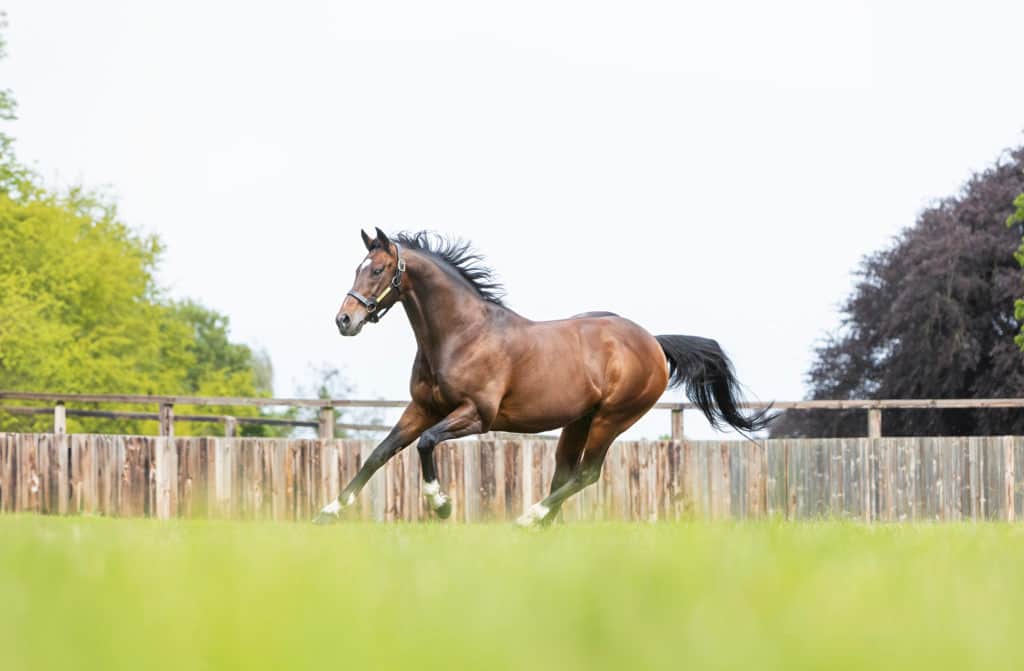 Frankel. Credit Marina Cano
Europe
Frenzy for Frankel's services
Weatherbys has published this year's Return of Mares, which features breeding records for every Thoroughbred broodmare in Britain and Ireland, detailing the identity of their foals and coverings, as well as current and historical statistics on breeding activity in the two countries.

Taken from Bloodhorse Daily, 24th October 2023, by Martin Stevens
Frankel is on course to be crowned Britain and Ireland's champion sire for a second time, with progeny earnings nearly £3 million ($3.66 million) ahead of his closest pursuer Dubawi up to British Champions Day at Ascot. Needless to say his 196-strong book at Banstead Manor Stud this year was another who's who of top-class racemares and proven producers. Among the Group or Grade 1 winners covered by the son of Galileo were—take a deep breath!—Alpine Star, Althiqa, Audarya, Blond Me, Con Te Partiro, Coronet, Emollient, Emulous, Glass Slippers, Going to Vegas, Journey, Juliet Foxtrot, Left Hand, Mabs Cross, Madame Chiang, Mangoustine, Mecca's Angel, Mother Earth, Newspaperofrecord, Nezwaah, Pearls Galore, Precieuse, Pretty Gorgeous, Quiet Reflection, Rougir, Rushing Fall, Saffron Beach, Sea La Rosa, Siyarafina, Sobetsu, Sunny Queen, Sweet Idea, Teona, Thundering Nights, Treve, Urban Fox, Viadera, Villa Marina, Wild Illusion, and Wonderful Tonight.
The similarly lengthy list of top-level scorers whose dams visited Frankel included Adayar, Adhamo, Alpinista, Aunt Pearl, Battaash, Blue Rose Cen, Chaldean, Churchill, Cracksman, Desert Crown, Dream Castle, Hermosa, Homeless Songs, Inspiral, Johannes Vermeer, Kelina, Luxembourg, McKulick, Nashwa, Quadrilateral, Queen Goddess, Set Piece, Siskin, Speedy Boarding, State of Rest, Thunder Snow, Whitebeam, and Ylang Ylang.
Frankel's book also included four very special mares who were Group 1 winners themselves and have also produced Group 1 winners at stud: Dar Re Mi (dam of Too Darn Hot), Halfway To Heaven (Magical and Rhododendron), Lillie Langtry (Empress Josephine, Minding, and Tuesday) and Nahrain (Benbatl).