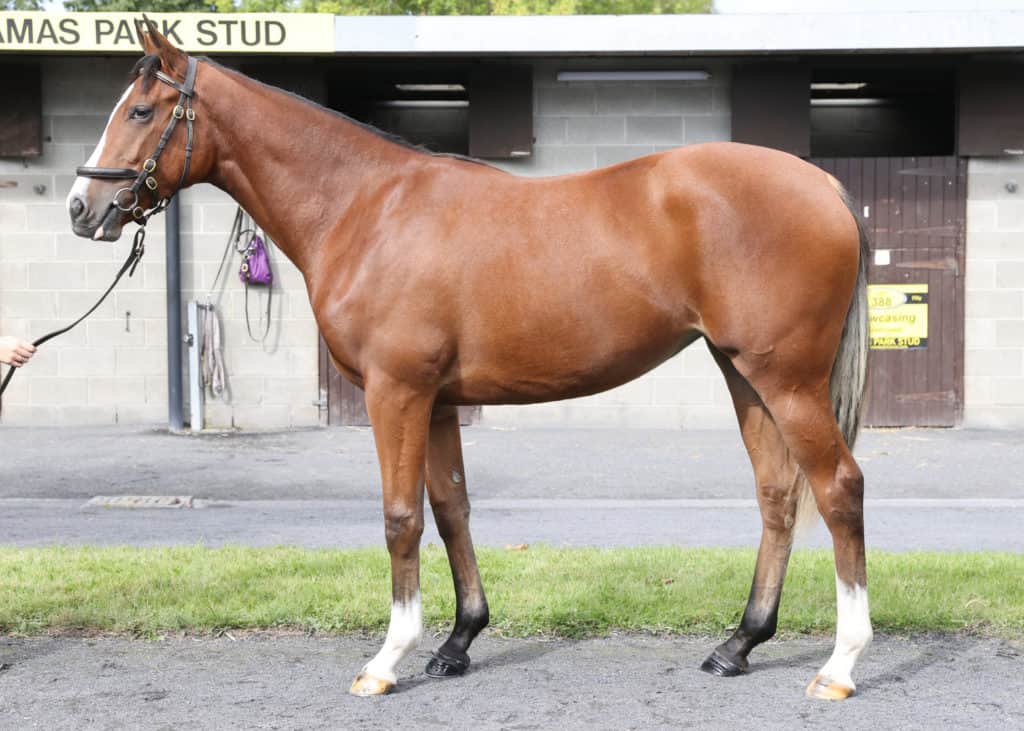 Lot 525 b f Frankel - Multilingual © Camas Park Stud/carolinenorris.ie
Europe
€1.85 million Frankel filly tops Goffs Orby Book 1
The Camas Park Stud-consigned filly, purchased by M V Magnier was joined in the top five lots of the sale by a Kingman colt who made €650,000 and Frankel colt for €625,000, both selling to Godolphin.
Taken from the Thoroughbred Daily News, 28th September 2023, by Brian Sheerin:
Bred by the Sangster family, the Frankel filly (Lot 525) boasts a wonderful pedigree being out of a half-sister to Kingman. MV Magnier was forced to be strong to see off the attention of Kieran Lalor of Al Shira'aa Farms at €1.85 million.
Magnier said,: "We have a long history with the Sangster family and have been very lucky buying off them in the past. She is a very nice filly and Frankel is doing exceptionally well. She's very well bred and we're delighted for Ben [Sangster] and all the guys." He added: She really has everything so let's hope she's good. A Frankel filly with that pedigree, it's a lot of money but, listen, it was probably a fair price for her."
Anthony Stroud, buying on behalf of Godolphin, picked up a Kingman half-brother (Lot 313) to Skitter Scatter for €650,000. Commenting on the Philip Stauffenberg-consigned colt, he said: "An extremely well-bred horse by Kingman and we had Victory Dance out of the mare who was bred by Airlie which is a great stud farm. We looked at him as a foal and debated buying him. We thought we'd just leave him and see what he was like this year. It was reassuring that he came back with Philip Stauffenberg so we had a chance to look at him again. We thought he progressed well in the year. Happy with him."
He added: "Victory Dance is a different type of horse. This horse has a lot of Kingman in him. I've been associated with a few good Kingmans, like Persian King. He's had another great season this year and as we all know, he's very capable of siring a brilliant horse, isn't he?"
Stroud also signed for a Frankel colt on day one of the sale for €625,000. Lot 32, consigned by Yeomanstown Stud, out of Listed-winning sprinter Promised Money.
"He's for Godolphin," said Stroud signing for the Frankel colt. "Charlie, David and myself all saw this horse and we all liked him very much. "He's by Frankel and comes from a very good farm. He's very smooth and came within the range we thought he would. He's just a very nice horse."