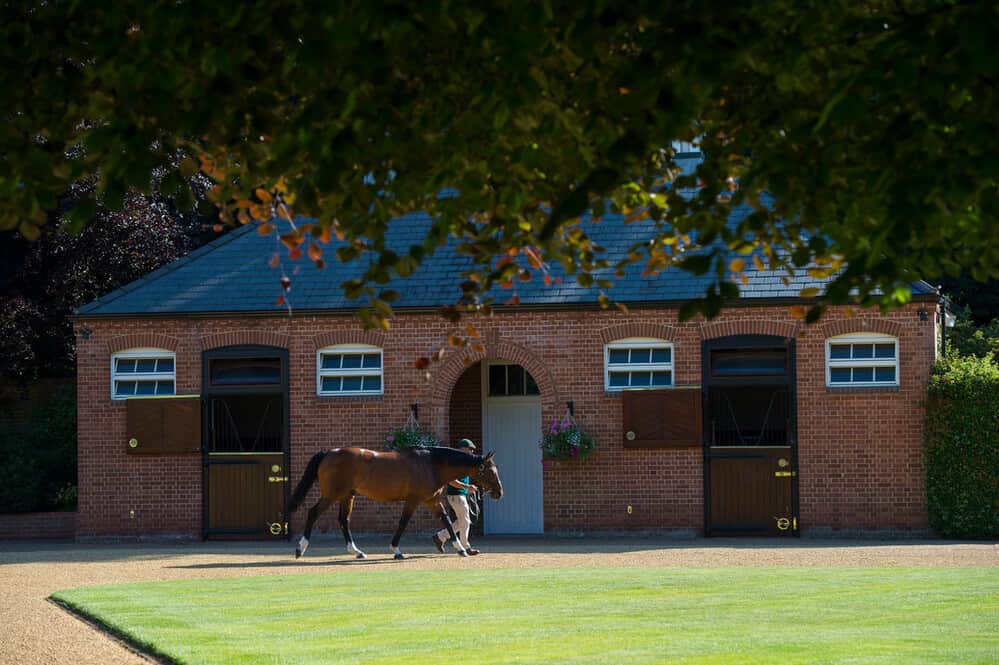 (c) Bronwen Healy
Europe
2024 European stallion fees
Juddmonte is pleased to announce the 2024 nomination fees for its five European stallions, standing at Banstead Manor Stud.
6th November 2023:
Bated Breath - £10,000 Special Live Foal
Chaldean  - £25,000 Special Live Foal
Frankel - £350,000 Special Live Foal
Kingman - £125,000 Special Live Foal
Oasis Dream - £15,000 Special Live Foal
"2023 has been another outstanding season for the Juddmonte stallions. A season which sees Frankel poised to win his second Champion Sire title in the last three years and a year where the Juddmonte roster was the leading stallion farm at Royal Ascot." Reflects Simon Mockridge, General Manager, Juddmonte UK.
"Kingman closes 2023 as the sire of more three-year-old stakes winners than Frankel, Into Mischief, Galileo and Dubawi. Significantly, Frankel and Kingman, who currently sit first and third in the European Sires's list, are responsible for 64 individual stakes winners between them in 2023 alone. Of which 39 are Group winners with 14 of them winning at the highest level, further consolidating their positions as two of the world's elite stallions.
The roster has been further strengthened by the exciting addition of Frankel's most precocious son Chaldean. His physique, conformation, and classic credentials should give him every opportunity to succeed. We look forward to welcoming breeders to the farm to view the stallions by appointment."
CHALDEAN joins the European roster as the first son of Frankel to stand at Juddmonte and the first two-year-old Group 1-winning son of Frankel to stand at stud in Europe.
He proved himself to be a tough and precocious two-year-old, putting together a unique sequence of juvenile Group wins starting with the Group 3 Acomb Stakes, a three and a half-length win in the Group 2 Champagne Stakes and culminating in the Group 1 Dewhurst Stakes in the second-fastest time ever. Before turning three years of age, he made a victorious return to Newmarket, emulating his sire Frankel, with an emphatic Classic win in the 2000 Guineas, the renowned stallion-making race. Frankel and Chaldean are the only father-son duo to complete the Dewhurst-Guineas double.
Trainer Andrew Balding was full of praise for his Classic-winning charge, commenting: "Chaldean was the most professional, uncomplicated, and beautifully balanced horse we had during his time at Kingsclere."
Chaldean is a rare Juddmonte purchase, having been acquired at the Tattersalls December Foal Sale for 550,000gns in 2020. He was bred by Whitsbury Manor Stud out of Suelita, a high-class producer of four precocious and fast blacktype winners including two-year-old Group 2 winner Alkumait and Group 1 performing sprinter Get Ahead.
Chaldean offers breeders a unique opportunity to breed to a son of Frankel who was a top-class two-year-old and Classic-winning miler.
Following on from another exceptional season, we have seen FRANKEL further strengthen his status as the global sire sensation with 11 individual Group 1 winners to date in 2023, more than any other Northern Hemisphere-based stallion. His progeny has continually broken boundaries both on the racecourse and in the sales ring including the winners of the 2000 Guineas, Epsom Oaks, Juddmonte International Stakes, Ascot Gold Cup, Fillies' Mile Stakes (for the third time) and culminating in the Filly & Mare Turf at the Breeders' Cup in 2023. His stock continued to be in great demand this year, siring the two highest-priced yearlings at Tattersalls Book 1 and the Goffs Orby Sale-topper, all seven-figure yearlings. His new fee reflects his standing amongst the all-time great stallions.
KINGMAN enjoyed a stellar year in 2023, underlining his position as one of the Northern Hemisphere's leading sires by siring more three-year-old stakes winners in 2023 than Frankel, Into Mischief, Galileo and Dubawi. This year he has sired 15 individual Group winners including Group 1 winners Sauterne (Prix du Moulin), Feed The Flame (Grand Prix de Paris) and Australian-bred two-year-old King Colorado (J. J. Atkins). He remains one of the world's most commercially attractive sires with a yearling average of more than £340,000.
OASIS DREAM enters this season as one of the most successful active stallions at stud in Britain. he has sired over 220 stakes horses including the winners of 30 Gr.1 races. Of those stallions still active in Britain, only Dubawi and Frankel have sired more Group 1 winners and Group winners. He has firmly established himself as an exceptional broodmare sire with 54 individual daughters having produced Group winners, 13 of which are Group 1 winners including the recent Breeders' Cup Juvenile Turf Sprint winner Big Evs. The evergreen stallion continues to represent excellent value at his new fee of £15,000 SLF.
BATED BREATH is the best value sire in Britain by blacktype performers since the start of 2019. No stallion standing for £30,000 or less has sired more Northern Hemisphere-born blacktype horses (46) over this period. This consistency is reflected in his 2023 yearling sales' results with four lots sold reaching six figures and an average of almost £50,000 for 58 sold. With his best-bred crop of two-year-olds making their debut in 2024, Bated Breath remains a commercially appealing choice, at the even more competitive fee of £10,000 SLF.
Juddmonte invites breeders to contact our sales team led by Nominations Manager Shane Horan, who will be delighted to discuss your mating plans. Call +44 (0)1638 731115 or email nominations@juddmonte.co.uk